Day Five: A Walk in the Garden
To compensate for the lack of dinner the night before, we treated ourselves for breakfast at El Escapulario, a tiny, second-floor restaurant located a few blocks from El Templo de Santo Domingo. Because there were few customers, we chose the best table, in front of a window overlooking the street. The coffee was wonderful, much better than what they served at the hotel, and the food was very good. We ordered Huevos Mixtecos (fried eggs with nopal cactus, tomato, onion, oregano and green sauce) and Chilaquiles de Amarillo (chilaquiles with yellow mole).
After breakfast, we paused at La Iglesia del Carmen Alto on our way to the Ethnobotanical Garden, arriving there at 11:00 for the scheduled English-language tour. The garden is not open for people to visit without a tour guide. There were about 30 in our group, and our guide, Valeria, was excellent.
The garden has been in existence only since 1998. Originally, the space was part of the Santo Domingo convent, built by Dominican friars in the 16th and 17th centuries. Later, in the 19th Century the area became a military compound. The army occupied the area for more than 100 years and built the high walls that surround the garden. Later, the space was considered for development as a luxury resort, a convention center, or a parking lot, but in 1993, artists Luis Zarate and Francisco Toledo and ethno-biologist Alejandro de Avila proposed the creation of a garden. Today, there are hundreds of plants in the garden, all of them indigenous to the state of Oaxaca, representing the diversity of plants that can be found in different climate zones of the state. The garden also serves to demonstrate the relationships between biological diversity and the cultural history of Oaxaca.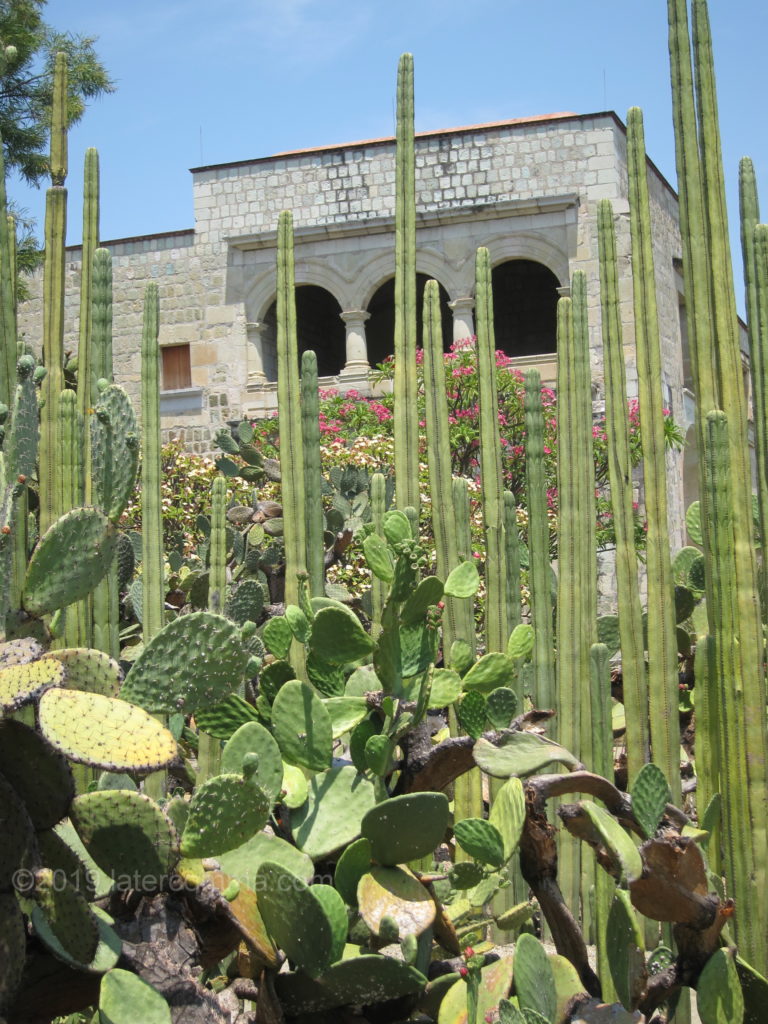 On our way to the Amate bookstore on Calle Macedonio Alcalá we were approached by three young teenage students. Somewhere there is a video they took of us as they asked a set of questions in English as part of a school assignment. I think they will have a better chance to become fluent in English than I have to become fluent in Spanish.
Moments later, an aggressive street-vendor tried very hard to sell us a rug, and we made the mistake of showing a glimmer of interest. The longer he had our attention, the more he kept lowering his price, but we were not interested at any price and he was bargaining with himself. Finally, we just had to turn our backs and walk away.
We stopped at the Museo Belber Jimenez on our way back to the hotel. This small museum showcases the private collection of Federico Belber Jimenez, a world-renowned jewelry designer. Federico was a Mixtec Indian who born in the village of Tututepec on the Oaxacan coast. He studied anthropology and later moved to the United States. In this museum are pieces he collected throughout his life including jewelry, textiles, folk art and pre-Colombian objects found in his native village. Some of the silver work was quite beautiful. I spoke briefly in Spanish with the guard—the only other person in the museum when we visited. He somehow had the impression that we were Germans, but when I told him that we were from the United States, he wanted to know what I thought about Trump. I said he was no friend of ours.
Later, we decided to go back to the little rug store where we had seen the small gray rug that we liked. José told us that all of the colors in the rug were natural wool—none of the colors were dyed. I was amazed by this, and we bought the rug.
That evening we went to La Coronita for dinner. This fine Oaxacan restaurant has been in business for 70 years. The other diners that night appeared to be locals rather than tourists—always a good sign. I ordered a glass of mezcal espadín joven de la casa. It was the first time that I had ever tasted mezcal, and I didn't expect to like it, but it surpassed my expectations. We ordered Amarillo mole con pollo and Tasajo de hebra gratinado con quesillo. Both dishes were good, although the tasajo (dried beef) was a bit dry. The mole came in a bowl—like a soup with pieces of chicken, potato and green beans.
After dinner, we walked several blocks to La Basilica de la Virgen de la Soledad. There is a small park in front of the church with several food stands, including an ice cream shop where our hotel receptionist had told me I could find nieve tuna con leche quemada. Although we found the ice cream shop, I was not in the mood for nieve.
I took some pictures of the exterior of the church, and then we went inside. Although I had put my camera in my pocket, an elderly woman began scolding us in Spanish, informing us that no photographs were allowed (despite the fact that there were no signs prohibiting photographs). This was the first and only time in Oaxaca that we felt unwelcome. We left the church and decided not to return to visit its museum.
As we were walking back toward the Zócalo, we ran into a street parade celebrating the wedding of Mau and Lucy. When we reached the park in front of the cathedral, the wedding parade had already arrived, with its musicians playing music, people in costumes and carrying large puppets, and everyone else dancing and having a good time. We stayed to watch from the sidelines for a little while, wishing Mau and Lucy the best.
Later, when we got to the Zócalo, there was a street musician in full Indian regalia playing pan pipes and flutes. He was quite good, and we stopped to listen to him play. We found out that he was from Ecuador. His partner was hawking CDs, and eventually I decided to buy one as a souvenir of the evening in Oaxaca.
Day Six: Tejate y Más
We ordered breakfast off the menu at the hotel, and we started our day with a stop at the Centro Fotográfico Álvarez Bravo where there is a small collection of Bravo's work as well as works by other photographers. Álvarez Bravo was an important Mexican artistic photographer who did most of his work between 1920 and 1950. He lived 100 years.
We walked to El Llano Park, a large park that stretches over three square blocks. The park has two large fountains and a statue of Benito Juárez at its center. It is not as crowded as the Zócalo and seemed to us to be a very family-oriented park.
It was a Sunday, and we had three days left in Oaxaca. We had been to all the museums we wanted to see, we had taken two archaeological tours outside the city, and we had absorbed the architecture and ambiance of Oaxaca's historical center. Simply sitting in the park was a luxury, and we considered ourselves lucky that those moments under those trees in that place were even possible for us.
I wanted to try tejate. It is a traditional drink of the region, a sweet non-alcoholic drink made of ground mamey seeds, corn, cacao, rosita de cacao (a flower), and water. It is served cold, with a frothy white layer of foam floating on top. According to my research, tejate vendors could be found in the Mercado Benito Juárez, and so we left the park and set off in that direction.
On the way, we stopped at an ice cream shop and bought two tuna con leche quemada popsicles. Tuna is the fruit of the Opuntia cactus and is commonly known as prickly pear. Leche quemada would be literally translated as "burnt milk." The two-toned popsicles had a cream-colored a top layer (the leche) and a smaller raspberry-red bottom layer (the tuna).
As we approached the Zócalo, we heard an orchestra. On the side of the square nearest the cathedral, dressed in white suits and numbering 30 or more musicians, the orchestra was playing. We found a spot to sit on the wall behind them and listened for a while.
Later, we made our way to the Mercado Benito Juárez. I was still in search of tejate, but we paused at a stall where a man and his young daughter were selling clothing. We spotted a burgundy-red "Mexican" shirt that looked, unfortunately, like it had my name on it. After some hesitation, during which the vendor dropped the price by 50 pesos (not quite $3 US), I bought the shirt, emptying my wallet of most of my pesos. I might have paid too much, but the tag said that it was made in Mérida, Mexico (not China or Sri Lanka) and it does look pretty good on me!
At last, we found a woman in one of the aisles who what selling tejate from a huge, colorful ceramic bowl. For 15 pesos (about 75 cents), we bought a cup of the drink to share. It was a refreshing drink, kind of creamy, kind of chocolatey, but not too sweet.
I wore my new shirt that night when we went to Las Quince Letras for dinner. We were seated in the courtyard near a guitar player who was just finishing up his set. We ordered Enchiladas con pollo a la fiesta and Segueza y res. The enchiladas were folded tortillas covered in mole negro served with shredded chicken on the side—not the rolled-up stuffed and baked tortillas that we expected. The food here was very good, but not breath-takingly good.
After dinner, we walked back to El Llano. There were more people in the park that evening but it still did not seem crowded. A bounce-house had been inflated near one of the fountains, and there were little pedal powered carts to rent as well as a small train that was taking children for rides around the park. We walked back toward Las Golondrinas, stopping to linger again on the plaza in front of ElTemplo de Santo Domingo. We shared a coffee from the Café Brújula before making our way back to the hotel.
Day Seven: Grasshoppers
In the morning, I stopped in at the Oaxaca Spanish Magic language school where I spoke with Miguel (mostly in Spanish) about the classes they offer. I am sure that my ability to speak and understand Spanish would improve a lot if I were to take a week of classes and immerse myself in the language. Coming back to Oaxaca would be one way to do this.
We met up in El Llano park and then walked to the Galería Quetzalli, where we found some interesting contemporary paintings, including two by Rufino Tamayo. We agreed that the Tamayo paintings were outstanding, and he has now become my favorite Mexican artist (with due regard for Frieda Kahlo and Diego Rivera).
The Instituto de Artes Gráficas de Oaxaca (IAGO) comprises several locations in Oaxaca. We stopped briefly at a building on Avenida Benito Juarez. It is primarily a research library, although we found a small display of amusing obscene drawings that were probably political cartoons with caricatures of public figures whom we did not recognize.
We also found the Biblioteca Henestrosa. Andrés Henestrosa was born in Ixhaulán and grew up in a traditional Zapotec family. He became an author, poet, journalist, historian and a politician, noted for recording in his writings the folk tales he heard as a child. He died at the age of 101, leaving to the City of Oaxaca his collection of more than 40,000 books.
On the second floor of the building that houses the Henestrosa Library, we found La Casa de la Ciudad, a public space that features information about the origin of Oaxaca and the preservation of its historic downtown.  In one room there are two illuminated aerial photographs of the city (from 1990 and 2006) that cover the floor (you can walk on them) and there are additional maps of the city on the walls.  In an adjoining room, there is a contemporary art exhibit.  We especially enjoyed the collection of about 30 pen and water-color drawings of Oaxacan street scenes by Italian artist Franco Sergio Bianchi.
We stopped at the Boulenc bakery and bought some of the chili oil that we had enjoyed when we had eaten there. For lunch, we went to a restaurant called Hierba Dulce. The restaurant describes itself as a "feminist deindustrialized kitchen." I suppose you can't get more healthy and politically righteous than that. We ordered Tapas de aguacate (avocado toast), Caldo de frijol (bean soup) and Enchiladas de quintonil. The food was generally bland and disappointing, except for the avocado toast, which was as good as what we had at Boulenc.
We decided to take books and go to El Llano Park to read, but the iron benches there became uncomfortable after a half an hour, and so we came back to the hotel.
For dinner that night, we decided to go to El Escapulario, and on the way there we found another location of IAGO, which had a couple lovely courtyards but very little artwork on display.
At El Escapulario, I was determined to try a tlayuda with chapulines (grasshoppers) and I ordered a glass of mezcal to fortify my nerve. The tlayuda was great and had that little extra crunch. As served here, the tlayuda was a large open-faced tortilla topped with cheese, avocado, tomato, and, of course, chapulines.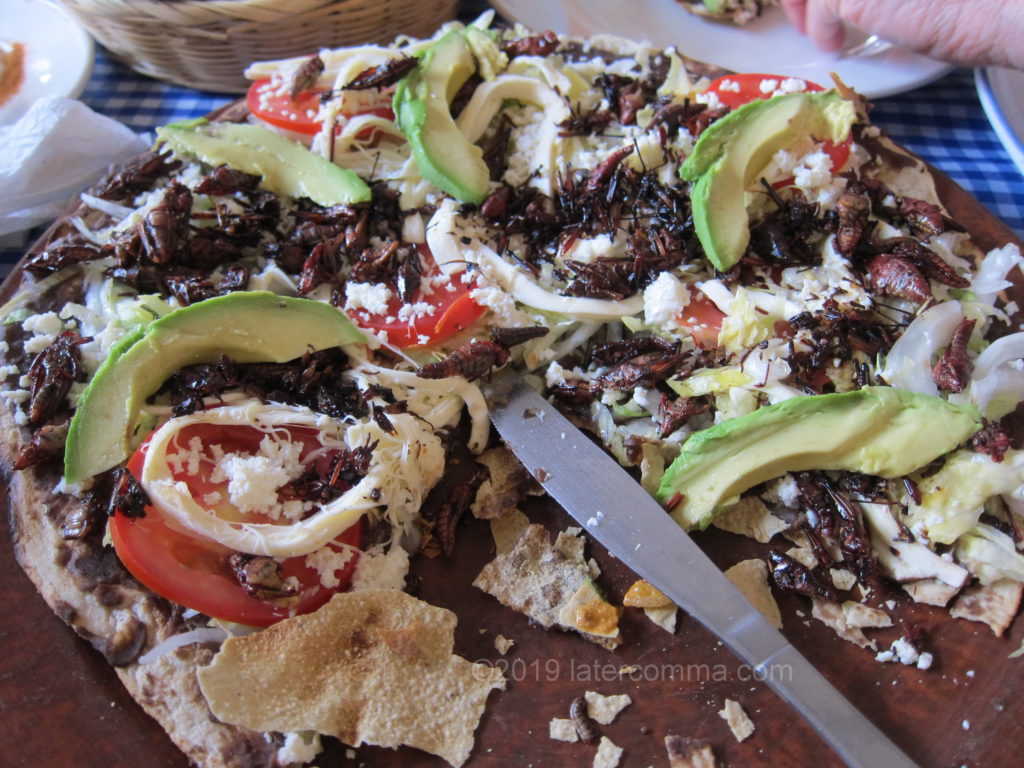 Day Eight: The Deluge
For breakfast on our last day, we were headed back to La Olla, where we had eaten an early supper on Day Two, but on the way, another restaurant and bakery, Pan:AM, caught my eye and, feeling spontaneous, we decided to have breakfast there. This oddly-named restaurant was very full, but we were quickly shown to a table. We ordered a vegetarian omelet and Huevos divorceados (fried eggs on tortillas with "separated" red and green sauces. The food was very good—but I would still like to return to La Olla!
We sat in El Parque Labastida, a little park near the Amate bookstore, for about a half-hour. When the bookstore opened, we went in to browse but we did not buy anything.
I remembered that I had wanted to visit the Teatro Macedonio Alcalá, which we had seen from a distance when we went to the Museo del Arte Contemporaneo de Oaxaca on Day Three. The theater dates back to 1903. Near the main entrance, I asked a guard (in Spanish) whether it was possible to see the inside, and he told us that there were tours we could take at noon and 1:00. We decided to walk to the Zócalo and wait for the noon tour.
While we were sitting in the park, a guy sitting next to us (who possibly heard me talking about going to a nearby ATM for pesos) struck up a conversation (in a combination of English and Spanish). He claimed to have worked for a while in Juneau and that he had been to Everett, Bellingham and Portland before US immigration caught up with him at Sea-Tac. He had grown up in a mountain village near Oaxaca. As it was approaching noon, I made motions to leave and told him we needed to go, upon which he announced that he was broke. I gave him 20 pesos (about $1 US).
We got back to the theater at noon and had to wait several minutes for the tour guide. Meanwhile, several other couples arrived. The guide escorted us into the auditorium of this grand old theater with its multiple balconies and ornate decoration. After a five minute explanation of the theater's history (in Spanish), she paused to ask if anyone had any questions, and I asked if she could speak to us in English. She gave us an abbreviated version of what she had been telling the others, and everyone was gracious about our inability to understand their language. The theater tour included the auditorium, the lobby, the stage, a dressing room, the basement (where there is a small performance area), and the orchestra pit. The auditorium has about 600 seats and even people in the highest balcony (the cheap seats) can hear well because of the hall's good acoustics. Although the tour was mostly in Spanish, our guide talked to us on the side in English—and so it worked out pretty well.
On the Acalá we went into La Mano Mágica, a gift shop that has an amazing collection of alebrijes. Inside the shop, we found a doorway that led into an art gallery. Two rooms were filled with paintings and a few sculptures, and there was also a large studio room where a loom was set up. The art was quite good and included a few works by Rufino Tamayo.
We returned to our hotel room and packed up our bags for our trip home the next day. I arranged for a cab to pick us up at 10:30 in the morning to take us to the airport. We decided to return to El Asador Vasco for our last dinner in Oaxaca. We chose a table on the edge of the balcony overlooking the Zócalo. We ordered Chichilo con res y puerco (beef and pork in a dark red mole) and a tamale dish, which was fine but was not the stuffed corn husks that we imagined tamales to be. We had an excellent cheesecake for dessert.
During the meal, we started to feel sprinkles. Later, the rain started and emptied out the Zócalo below while we pulled our table away from the open edge of the balcony. By the time we finished eating, the rain was coming down in torrents. We had not brought raincoats, so we remained in the restaurant, waiting for the storm to pass, but it didn't. It was still raining hard after almost an hour, and so we decided that we would have to walk back to the hotel in the rain. From a street vendor, we bought two improvised ponchos (cleverly fashioned from cut-up garbage bags). These helped a little, but the monsoon had turned the streets to rivers of water several inches deep. By the time we got back to our hotel room, we were thoroughly soaked. We took off our waterlogged shoes and hung up our wet clothes, hoping that everything would dry out by the morning.
Hits: 925
Some other stuff for later,
67

The name "Oaxaca" comes from a Nahjuatl word, huaxyacac (referring to huaje trees, a variety of acacia, and yacatl, or "summit").  The Aztecs applied the name to the summit where they built a fortress in 1486.  But the history of Oaxaca goes back 7000 years. During the pre-colonial period, the…

55

We drive north from Buffalo on I-90. Our destination tonight is the town of Anaconda, about 20 miles west of Butte, Montana. The founder, copper king Marcus Daly, wanted to call the town "Copperopolis," but another Montana mining town had already claimed the name. So the town became Anaconda instead,…