The English version of this post—We Discover Costa Rica—was posted here on June 28, 2015. This Spanish translation is my own and may contain errors. I invite native speakers of the language to comment on my errors and to suggest corrections. Aquí está una traducción en español de We Discover Costa Rica. Por favor, hispanohablantes quienes leen mis traducciones me permitan saber mis errores y sugieran enmiendas.
En algunos impresionable edad, me fue dicho que Cristóbal Colón descubrió América en 1492. Por un rato, yo creía que él descubrió Florida y el fuente de juventud, pero eso fue algun otro chico. He venido a aprender que Colón "descubrió" una isla en las Bahamas que ya fue ocupado por gente desnuda.
Diez años más tarde, en 1502, Colón "descubrió" Costa Rica, que asimismo fue ocupado por varias grupos de gente indígena. Rey Fernando de España envió una expedición para explorar y instalarse en el país en 1506, tentado en parte por historias de una abundancia de oro. Los españoles establecieron un asentamiento en Cartago (cerca de actual día San José) en 1563 y continuaron a desarrollar asentamientos en Costa Rica durante el Siglo Dieciocho.
En 1821, Costa Rica declaró su independencia de España. Bajo el liderato de Juan Mora Fernández, Costa Rica emergió como una democracia. Por los media-1800s, café había convertido el exporto principal del país. En 1849, Juan Rafael Mora, un productor de café, convirtió presidente, y en 1856, él elevó un ejército para repeler una invasión dirigido por William Walker, un aventurero de Norte América y promotor de esclavitud. El ejército de 2500 hombres de Mora enfrentó los mercenarios de Walker, y después de una batalla de 14 minutos, los invasores de Walker huyeron a Nicaragua. Como por Mora, pronto después de ganar elección en 1859, él se fue ejecutado por pelotón de fusilamiento en 1860. Hoy día, Mora está considerado un héroe nacional.
Costa Rica llevó a cabo su primera democratica elección en 1889. En 1940, Rafael Angel Calderón fue elegido presidente. Calderón instituyó reformas sociales, incluyendo social seguridad, tierra reforma, un salario mínimo garantizado, negociación colectiva, y derechos de trabajadores para organizar. Calderón también fundó la Universidad de Costa Rica.
Guerra civil irrumpió en 1948, instigado por Pepe Figueres, café productor y rival franco de Calderón. Después de la 40-día guerra civil, Figueres se convirtió presidente interino y redactó una nueva constitución, que prohibió re-elección presidential, disolvió el partido comunista en Costa Rica, concedió a mujeres y negros el derecho votar, abolió el ejército, y estableció un organismo neutral que supervisaría elecciones futuras. Figueres mantuvo todas las reformas sociales que Calderón había establecido. Figueres fue elegido presidente in 1953 y de nuevo en 1970. Él se está reconocido como uno de los más grandes lideres de Costa Rica y un activista contra corrupción political.
En 1986, Oscar Arias fue elegido presidente. Arias fue galardonado con el 1987 Premio Nobel de la Paz por su persistentes esfuerzos para promover paz en Central América. En 2010, Laura Chinchilla se convirtió la primera mujer del país estar elegido presidente. El presidente actual, Luis Guillermo Solís, fue elegido en 2014.
Costa Rica, con una población de 4,9 millón, es cerca el tamaño de Virginia Oeste. El país se sitúa entre el Oceano Pacifico y la Mar Caribe y se bordea al norte por Nicaragua y al sur por Panama. Llegamos en el capital, San José, a las dos en la mañana en 10 de junio (2015) para comenzar nuestro propio descubrimiento de Costa Rica.
Nuestro viaje incluido un día en el capital, San José, donde visitamos el Museo Nacional y el Museo del Oro Precolombino. El día siguiente, volamos en un Cessna avión de cuatro asientos a una pista de aterrizaje cerca de Tortuguerro en el Caribe lado del país. Nos quedamos tres noches a Tortuga Lodge, disfrutando comida excelente, guias conocedor, personal amable y cariñoso, un piscina encantadora y jardines frondosas conteniendo plantas tropicales y fauna exotica. Saliendo de Tortuguerro, volamos sobre el país para probar el Pacifico lado en el bello playa pueblo de Playa Hermosa. Nos quedamos allí tres noches, en una habitación mejorada con vista del oceano y un Jacuzzi en el balcón. Después de nadando en el Pacifico, nadando en la piscina, y empapando en el Jacuzzi, despedimos a Playa Hermosa y regresamos a San José para nuestra final mitad de una noche en el país.
Nosotros planeamos nuestro itinerario con la ayuda de Costa Rica Expeditions (CRE). CRE hizo todas las hotel recomendaciones y hizo las reservaciones. Ellos proveyeron en-país transportación por aire y tierra además de guias para nos dicen del país y contestan nuestras preguntas y conductores para aseguran que nosotros llegamos donde necesitamos estar sin problemas y a tiempo. Ellos se encargaron de numerosos otros detalles para nosotros, nos permitiendo a evitar el estrés de manejando esos detalles y simplemente disfrutar nuestra visita. El servicio proveído por CRE fue espectacular.
Tomó casi 600 fotos en Costa Rica, y cerca 150 fueron más bien buena. Seleccioné 69 el mejor, y desde ese grupo, elegí las 25 fotos que están incluido en este artículo.
Entran el Museo Nacional en San José a través de un mariposa jardín, encantado por Morpho mariposas. En esta foto, ve el sin brillo lado de la ala. Escondido hasta extienden sus alas para volar, el lado de arriba es deslumbrante azúl brillante.
Hubo muchas flores inusuales en el jadín también.
El museo contiene una exhibición del arte precolombino, incluyendo cerámica hermosa y piedra tallas.
Esta brillantemente pintada carreta de madera es casi escondida en el hueco de una escalera que conduce a los aseos. Nuestra guia, Eddie, explicó que carretas como esta estuvieron usado para transportar la cosecha de café a mercado.
El Museo del Oro contuvo una grande colección de artefactos de oro. Aquí estan sólo dos ejemplos de los cientos de artículos de oro que vimos en el museo. La majoría de los artículos de oro representó figuras animales o humanas.
El Museo del Oro también incluyó una colección de otros artefactos, incluyendo esta cerámica figurita de un mono.
En 11 de junio, después de desembarcando desde nuestra Cessna, estuvimos transportado sobre el Tortuguerro Rio por barco a la hermosa Tortuga Lodge. La vista afuera nuestra habitación es la foto presentado en la cima de este artículo.
Los jardines del hotel contienen flores exóticas, árboles del pan y monos.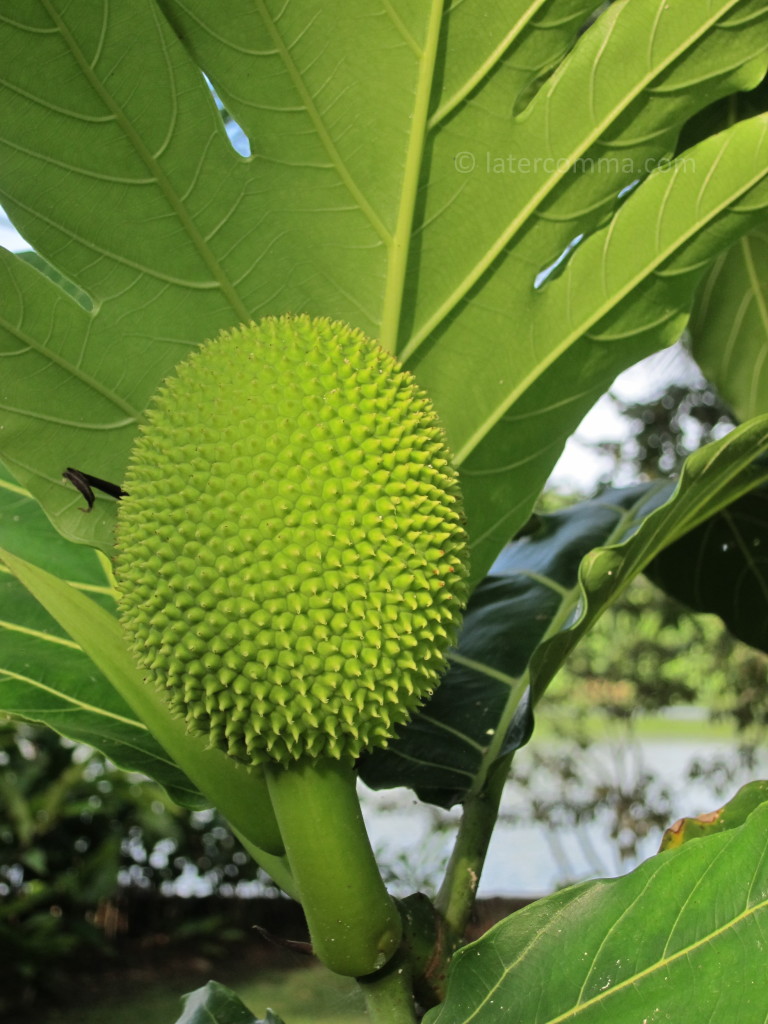 Es una jungla fuera allí más allá de los jardines del hotel, pero una tarde caminé por uno de las sendas. Fui afortunado conseguir una foto de la 1-pulgada veneno dardo rana.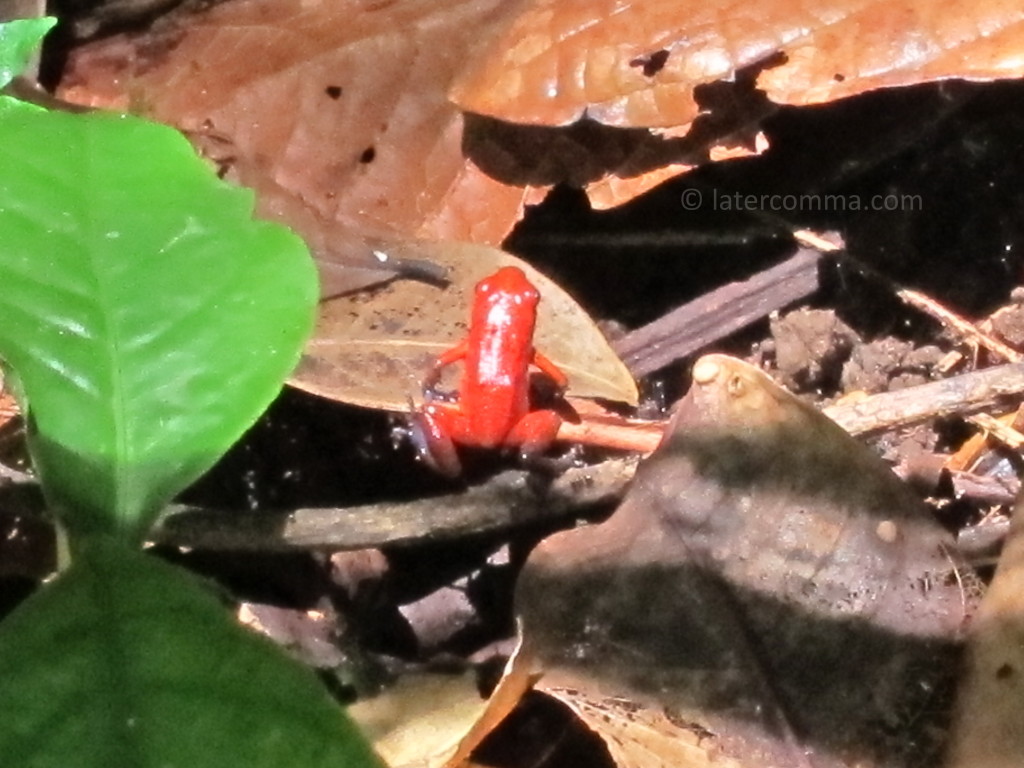 Iguanas deambulan el terreno alrededor del hotel. Esta una pasea por el comedor a la hora de almuerzo.
En sábado, 13 de junio, tomamos un tour por barco en el Tortuga Rio y hasta el parque nacional. Norton, nuestro guia, fue increíble, localizando pájaros y otros animales que pudimos ver sólo porque señaló adonde mirar.
Una ruidosa tormenta nos despertó durante la noche antes de nuestra salida. No hay nada tan romántico como tumbarse en cama sin peligro, mientras afuera relámpago ilumina el cielo y monos aulladores compiten con el sonido del trueno. En la mañana, los jardines del hotel fueron refrescados, y todas las flores fueron especialmente hermosas.
Cuando salimos de Tortuguerro, volamos sobre el país a Playa Hermosa, un pequeño pueblo de la costa norte del Pacifico.
Una noche, comimos una cena fabulosa de atún en La Casita Del Marisco.
La última foto de este artículo es la puesta de sol en Playa Hermosa en nuestra noche última, nuestro cuadragésimo aniversario.
La mañana siguiente, volamos a San José. Después de registrando en el Hotel Grano De Oro, nosotros tomamos un paseo al famosa Mercado Centrál y Parque Sabana. Nuestra cena final fue al restaurante del hotel, uno del más fino en San José. Elegimos platos principales de mariscos.
Corvina Macadamia
Empanizada con macadamia tostada, salsa liviana de naranja fresca
 Robalo Provençale
A la plancha, tomates frescos, cebolla confitada, aceitunas
Tres Leches
Postre típico de Costa Rica
Hits: 1506
Some other stuff for later,
63

The English version of this post is What I Learned About Savannah, posted here on July 9, 2014. This Spanish translation is my own and may contain errors. I invite native speakers of the language to comment on my errors and to suggest corrections. Aquí está una traducción en español…

62

At some impressionable age, I was told that Christopher Columbus discovered America in 1492. For a while, I thought he discovered Florida and the fountain of youth, but that was some other guy. I have come to learn that Columbus "discovered" an island in the Bahamas that was already occupied…

61

The English version of this post is Immigration Part 1: How Did We Get Here?, posted here on August 4, 2014. This Spanish translation is my own and may contain errors. I invite native speakers of the language to comment on my errors and to suggest corrections. Aquí está una…